DyaPress ERP/CRM • Dolibarr

•

PrestaShop

•

WooCommerce • Shopify
DyaPi allows connecting software together using API
Open source plugins for WordPress
DyaPress ERP/CRM for WordPress
DyaPress ERP/CRM is a WordPress plugin which is the port to WordPress of the existing Dolibarr(tm). DyaPress ERP/CRM has been made to allow simplified installation and update from WordPress.
DyaPi connect for WooCommerce
This WordPress plugin is still under testing and allow connecting a WooCommerce installation with DyaPi, so that is can be connected to any other supported software with DyaPi, like an ERP DyaPress or Dolibarr. There is a DyaPi connect for PrestaShop that allow connecting a PrestaShop with DyaPi.
DyaPress e-Commerce
DyaPress e-Commerce is a open source plugin for WordPress that allow digitalise a company and/or sell service online. Ce plugin is already connected to DyaPi. This plugin is under rework with DyaPi.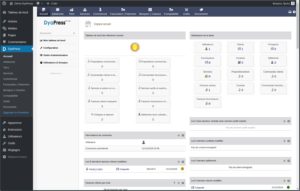 DyaPi to connect your software
DyaPi is a microservice that allows connexion of an application with another. DyaPi offers an unified REST API with all the supported softwares. The following applcations will be soon available publicly along with WordPress and Dolibarr. There are currently used by some of our customers :
PrestaShop : the connector module for PrestaShop allow to easily connect one ou many PrestaShop shops with DyaPi ;
Shopify est natively handled using Shopify API and webhooks ;
ChorusPro to send invoice automatically to french local authorities.